An Aspie X-Ray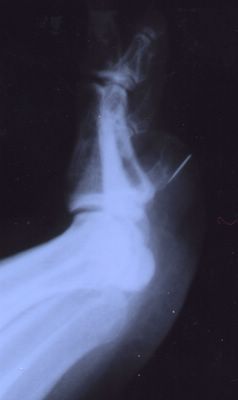 A "painless injury"

Pictured above, is an X-ray of my foot with an obvious needle in it! I walked on this for a day at work, (requires constant standing) and only occasionally "felt" something. This X-ray is my book as well as discussion of Aspie Injuries in general.
I had been getting ready for work and this BIG needle had fallen out of the sewing box and I felt it STOP my foot in its tacks . I simply pulled it from my foot ( I thought) and went about my business. It was occasionally sore ,but I thought that was OK and it was just where I had pulled the needle. The next Morning, My foot was all swelled and puffy. I went to the ER and As USUAL they thought I was lying (I walked in mostly unaffected) but they humored me by completing the X-Ray . AS USUSAL the mouths of the ER Personal and X-ray Techs were on the floor. Even other onlookers in the ER were Gasping. They told me to see a surgen on Monday. Being working poor with out insurance and having seen the X-ray I operated my self in a M*A*S*H style operation and even gave my self a stitch . This ISN'T the popular Autism sterotype you see on American Tv of the show E.R.
Our anthropology has all kinds of stories like this, as we are in the real world. As an Auto Mechanic I probably had more than my share of cuts and burns, I have given my self stiches many times.